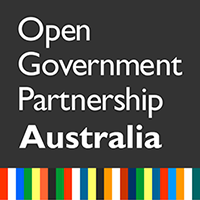 ---
The Open Government Partnership (OGP), is an international organisation which now includes 78 countries and 76 local governments. Its purpose is to encourage governments to be more open, responsive and accountable to their citizens and work towards improving democratic communication and outcomes between people and their governments.
To this end, it has set up a means of tracking progress in openness of member governments through an Independent Reporting Mechanism.   In their words. "The IRM provides independent, evidence-based, and objective reporting to hold OGP members accountable and support their open government efforts. This is done through reports and timely recommendations during key moments in the action plan cycle."
Mark Dreyfus (then Australian Attorney General) made the decision to join the OGP on 22 May 2013 but the ALP subsequently lost the 2013 election in September. After a delay of two years, Australia joined the Open Government Partnership in 2015, under the Turnbull government.
Australia's Open Government Forum office was set up in the Department of Prime Minister and Cabinet, and was made up of nine community members (Accountability Round Table had participating members) and nine public servants.
It has prepared two Action Plans for Australia since then.  Australia's first Open Government National Action Plan was released in December 2016, and its second on on 14 September 2021. But since then, activity has stalled.
Australia's Open Government Forum prepared Australia's 2021-23 action plan, which it delivered in 2020 to then-assistant minister to the prime minister and cabinet Ben Morton, but the document was never received by the OGP
A letter by the chief executive of OGP, Sanjay Pradhan to the Department of Prime Minister and Cabinet sent on 15th of February and published today on the OGP AU website, warned that Australia had "acted contrary to the OGP process" and that two consecutive missed deadlines would change Australia's membership status
"Governments that act contrary to process for two consecutive cycles are placed under review by the OGP Steering Committee, which involves enhanced support to resolve the issues that led to being placed in that status," Pradhan said.
The government's draft NAP3 makes several commitments including to form a consistent approach to the proactive release of information, promote good practice in government data sharing, and provide professional support for ministerial advisers. It also commits to improving awareness in federal agencies of fraud risks during the government's response to a crisis situation, agrees to improve transparency and trust related to the use of emergency and crisis powers. The draft supports initiating a research project to compare Australia's freedom of information management.
Previous commitments listed as delayed include improving public service practices using place-based approaches, enhancing the transparency of political donations and funding and strengthening the national anti-corruption framework.
The Mandarin has published an article "Federal Government fails to submit plan to Open Government Partnership",  in which it quotes ART's Ken Coghill;
"Ken Coghill, the panel's co-chair for civilian members and a former Labor MP in the Victorian parliament from 1979 to 1996, said missing the deadline brought the government's commitment to openness into question. 
"The government is being anything but transparent about its plans," Coghill, now a Swinburne University professor, said. 
"The Australian public is missing the improved governance that is produced by Open Government." 
The OGP has told the government it now considers Australia to be in a new cycle of preparing a plan for the following two years, but Coghill wants Australia to submit its overdue 2021-23 action plan. 
"It would be seen as a gesture of goodwill and commitment if they were to submit the current action plan," he said. 
"There is an enormous amount of work gone into this out of goodwill from the civilian society members of the forum and on the most part from the government members of the forum." 
Missing deadlines brings the Government's commitment to openness under a cloud. The Australian public is missing the improved governance that is produced by Open Government.