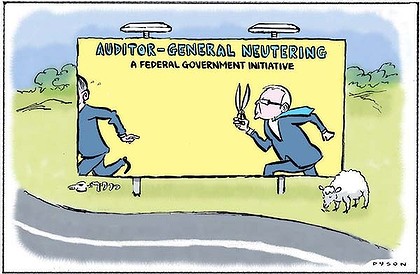 KATHARINE MURPHY
April 3, 2010
Labor's new dawn of accountability in government advertising has ended with the auditor being sidelined.
JUST over a week ago, Ian McPhee stumbled on some unhappy news: he was about to be kicked in the pants by the Rudd government. Being kicked in the pants is never pleasant. It's probably less pleasant than usual when you are the Auditor-General of the Commonwealth, a position of some importance and dignity. McPhee did not take the news well.
He contacted his political boss, Special Minister of State Joe Ludwig, to get to the bottom of what he was hearing. The government had appointed McPhee with some fanfare to police millions of dollars in taxpayer-funded advertising campaigns. This was a major integrity reform introduced by a government that had promised to be cleaner than its predecessor. He had heard he was about to be dumped. This would be odd, wouldn't it?
McPhee was handed a copy of an independent review which confirmed the bad news. Not only would he be sidelined, his office, the Australian National Audit Office, would be criticised for how it had conducted its duties. He would be replaced by a committee of former federal officials, including the author of the critical review, former departmental head Allan Hawke. It felt like an ambush
McPhee pondered this intelligence for a couple of days. Then he set out to record his profound objections to the turn of events. Over three careful pages to Ludwig, McPhee expressed his objections with a bean counter's meticulous attention to detail. "I consider my office has brought rigour and discipline to this aspect of public administration that, in the past, had been problematic to say the least," he told Ludwig. For good measure, McPhee copied his letter to the Prime Minister. The Commonwealth Auditor-General was not going meekly, in other words, and he made sure the politicians knew it. He had created a record of his position and records have a habit of surfacing.
Ludwig then had to ponder his position for a moment or two. The secretary of the Department of Finance was deployed to try to mollify McPhee and hose him down. Then Ludwig summoned McPhee to his office in Parliament House on Wednesday morning. The two men discussed the decision. They also discussed how McPhee's uncomfortable correspondence should be handled. What was said remains in that room, but the correspondence was later posted on the website of the Department of Finance.
Late that afternoon – after 4pm – Ludwig announced the government's position. There was no reprieve, just some pretty head-patting words to soften the blow. McPhee's role in future would be restricted to auditing campaigns once they were blitzing the airwaves – not stopping waste before it happened. The three former officials would vet the ads in his place.
The late afternoon announcement was classic "take out the trash" media management by the government. A release that late in the afternoon presses newspaper and broadcast deadlines, and the story would be stone cold dead by the Easter break.
Press releases were issued summarising the government's position, and the primary source documents – including the Hawke review and McPhee's letter to Ludwig – were posted separately on the web. So McPhee's carefully articulated anger with the government was there if reporters had time to go looking, but at that time of the afternoon how many would?
Dumping McPhee is more than a bad look; it is a spectacular backflip when you consider Labor's pre-election posturing about a new dawn in accountability.
Kevin Rudd had promised to put a broom through taxpayer-funded advertising, a system that had grown under John Howard to be a significant irritant to voters who, in the later years of his government, could hardly turn on the TV without being assailed by one campaign or another.
Rudd has certainly brought the spend down, changed the tone in a very positive way, and published material enabling people to track the process. McPhee was providing a significant check in the process, to the extent that he clearly got up the noses of departmental heads.
If we read the Hawke review, we learn that Canberra's departmental heads believed the auditor was interfering on their natural turf. The auditor was demanding "extensive data" (gasp!) before determining whether ad spends were in the public interest or a staggering waste of taxpayers' money. He tried to steer campaigns away from television and radio. He was disinclined to take direction from the ponytails of the advertising world and other "experts". In other words, he was making his presence well and truly felt.
But when it came to the crunch, the government backed the word of Hawke over the pesky, nit-picking due diligence of the Auditor-General.
Dumping McPhee means one of two things: either the government tried to implement a silly and unworkable policy and then had to step back once it became clear that the theory didn't meet the practice – or it didn't like what he was doing. He was slowing things down. He was being too literal in the application of the guidelines – although this raises the question, what on earth did they expect? A rubber stamp from the auditor? That seems a rather ambitious hope.
Of course, this government doesn't really need oversight does it? They clearly handled the insulation program in such a competent and thorough way that taxpayers would feel totally confident that no one need look over their shoulder.
In making this decision, the government has to own a couple of inconvenient truths. It has dumped the watchdog only months out from an election, a time which generally records significant spikes in taxpayer-funded advertising. It has dumped McPhee at a point when much of its integrity agenda is stalled either by bloody-minded and self-interested opposition intransigence, or by its failure to get its own house in order.
It has treated McPhee badly and has to wear the discomfort of his negative opinion about the change. And it has opted ultimately for more political flexibility over rigorous accountability.
Some new dawn.
Katharine Murphy is national affairs correspondent.